Frequently Asked Question
Error CAS
Last Updated a year ago
Description:
This error may be caused by your computer due to an access problem, folder creation or a corrupted file.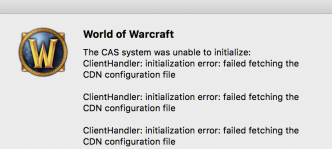 First solution:
Check that your game and related files are not blocked by your antivirus or security program.
Use Glary Utilities or another similar program to clean your locations.
Go to your game folder and delete the Cache and WTF folder.
Right click on your game folder, then "Read information". Then change all the "read only" boxes to "read and write".
Second solution:
Delete your Legion folder, then start the download via the Firestorm Launcher.